COST OF OWNERSHIP
CASH FLOW AND ROI
Whether it's a two-bedroom, two-bath starter condominium on the bus route for $500,000 or a ski village residence for $5,000,000, Vail, Colorado real estate price points usually boil down to two essential financial elements: a specified down payment (typically 25-35%) and an annual "cost to carry" after possible short term rental income offsets. Sorry, there is no such thing as "breakeven" or "cash flow neutral" properties without large down payments.
In an attempt to illustrate the magnitude of these two financial variables, at differing price points in different geographic locations, we offer the following menu of category alternatives. In order to   
help buyers understand the differences of "price per square foot" relationships based upon proximity to the ski slopes and size of structure, the Upper Vail Valley has been divided into four (4) distinct appellations.
Please keep in mind, these are case studies and NOT necessarily available "for sale" properties. These best-of-breed examples are intended only as financial guidelines illustrating the effects of a maximum leverage purchase model in conjunction with short-term rental income offsets, where applicable.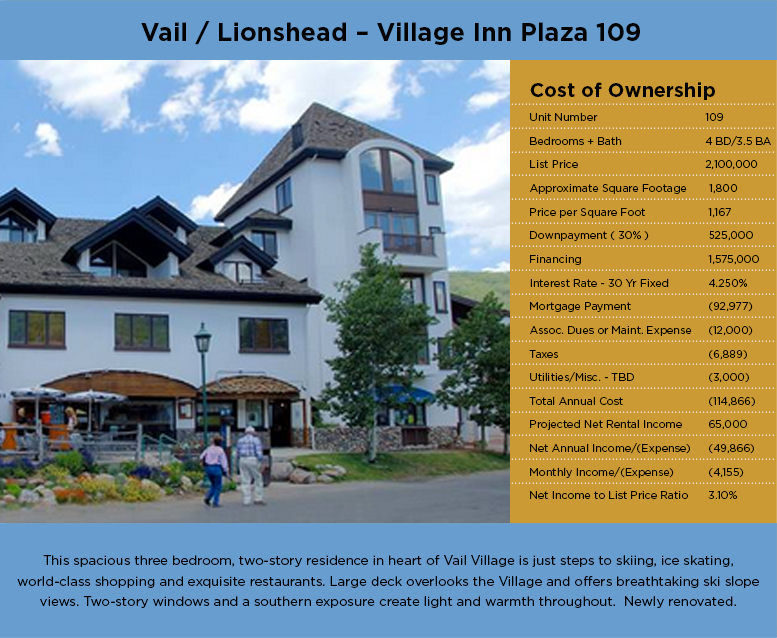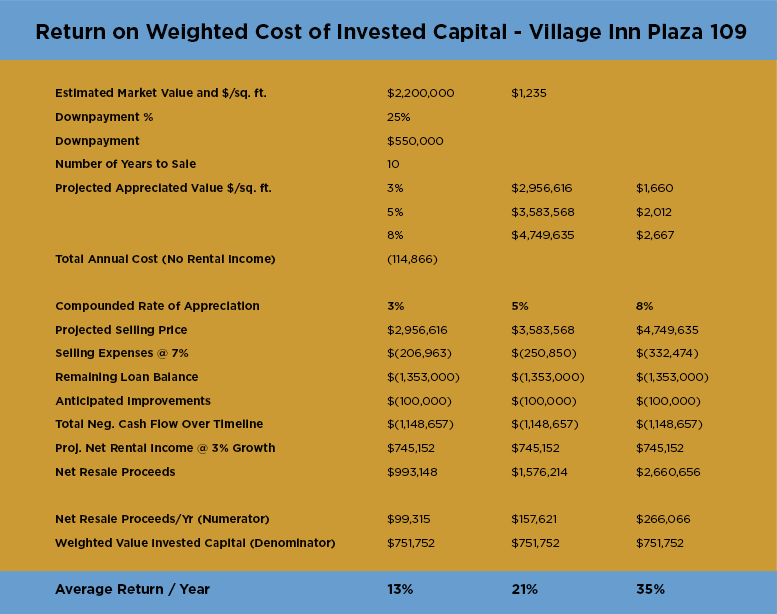 COST OF OWNERSHIP
EXAMPLE PROPERTIES
Slopeside
The Tyrolean-themed village that started it all offers pedestrian access to the ski mountain, restaurants and shopping. Lionshead, which provides easy access to the Eagle Bahn Gondola, has a history of lower real estate prices than Vail but is now coming on strong as a result of massive reinvestment in the area. Cascade Village – the most under rated and least understood of the three villages – offers walk-to-the-lift access in combination with Vail Cascade Hotel and Aria Spa amenities at two-thirds the price.

East-West Vail
At half the cost of ski village pricing, these 10-plus "micro" neighborhoods offer more space for less money in relaxed residential settings just 10 minutes from the slopes. Typically, there are more properties to choose from and bus service is generally available.

Beaver Creek
The last major ski resort to be developed in the U.S. (along with Deer Valley, Utah), Beaver Creek is a master planned community featuring true ski/in ski/out access. These properties cost 40% less with newer physical improvements than in Vail or Lionshead.
Super Premium
Some of the most architecturally significant homes within the industry can be found here in Vail, Colorado and other nearby exclusive residential enclaves. When it comes to discovering the best of mountain resort living, these magnificent homes demonstrate both the diversity and selection available for discriminating buyers.
Although our examples are financial in nature, we can compare qualitative issues in an easy-to-use spreadsheet format. To our knowledge, Vail Property Brokerage is the only local luxury Vail real estate agent offering this unique approach towards the decision making process. So please give us a call for your own customized property report.

COST OF OWNERSHIP
EVALUATION PROCESS
A thorough understanding of the marketplace and comprehensive financial analyses are what set
a 'smart' real estate decision apart from the average.
VPB measures "value" in four ways:
Price point as compared to the overall field.
Price-per-square foot comparisons so as to equalize the dilemma of varying sizes.
The annual/monthly "cost of carry" as measured by negative cash flow.
Return on Weighted Cost of Capital to include down
payment, negative cash flow and remodeling.
Shopping and pricing property without some form of spreadsheet analysis is an almost impossible task; because not all equally priced properties are the same! Each and every home has its unique personality reflecting location, floor plan, square footage, cost of maintenance, property management and an ability to generate short term rental income. Net income is the great leveler to this varied and bumpy playing field, reflecting all of the property variables – good and bad – as represented by the market's willingness to pay set prices for use during traditional tourist seasons.
Using these four indicators of value, properties which intuitively offer the best price point in relation to available inventory, have the lowest cost per square foot, suffer the least amount of negative cash flow and produce returns equal to or greater than the stock market, typically qualify as "best buy" recommendations.To find properties that are truly worthy of serious consideration, our spreadsheet analyses converts an array of variables into a simple to use format where you can quickly identify the players in the field. For the purpose of determining true market value, properties that make the "short list" are then compared to past sales records.Additionally, sellers are well advised to utilize this methodology when listing property. Packaging a "to be sold" home from the buyer's perspective will greatly accelerate the sale; eliminating pricing errors and presentation flaws which oftentimes prevent owners from maximizing their financial goals and objectives.
If we have intrigued you with our unique approach towards the buying and selling process, please give us a call. As the Vail Valley's only vacation home investment advisory service we offer unbiased counsel and information designed to put you in control of the overall process at no additional cost or expense.