HOW WILL IT PERFORM AS AN INVESTMENT?
EVALUATING THE ROI
Opportunity cost of diverted capital is an important consideration for most clients when evaluating whether a vacation home makes financial sense. If family net worth is sufficiently large so that the down payment, mortgage debt and cost of carry elements do not affect longer term financial goals and objectives, then you probably fit the buyer profile. Conversely, if yield is the all-consuming driver then there are certainly better performing asset classes, but keep in mind that one half of the benefit stream can't be measured on a ROI basis. The ideal combination for a vacation home would be lifestyle enhancement and a return on invested capital equal to or greater than a stock or bond market purchase.
Constructing a valuation profile that fairly represented return on invested capital took more than 10 years of trial and error refinements. The presented format has three capital call elements based upon a Weighted Cost of Capital approach because of the differences in timing of injected capital. Down payment is paid day one and is the easiest of the three to calculate. Negative cash flow occurs monthly over the holding period of say 10 years, which over time can be as much as the initial down payment; the wrinkle being that only half of the amount is outstanding over the time line. Anticipated Improvements is the last and toughest element to estimate. It's very difficult to buy property built 1968-1994, use it for 10 years, and then remarket the asset at a 50% plus mark up without spending money on an interior remodel and/or deteriorated shell and core elements. Most clients buy property, catch their breath, use it for a couple of years and remodel year 3, if not sooner. As with the periodic flow of negative cash flow, the delayed timing of these elements favored a Weighted Cost of Capital approach where 50% of the negative cash flow and 85% of the anticipated improvements are added to the down payment in order to calculate a total invested amount denominator.
As for the numerator, several refinements need to be explained. The purchase price of the property is assumed to be 95% of list price. Remodeling increases value but it is unlikely to enjoy a 100% flow through so only 70% is added to acquisition cost. This total now becomes the basis for the 3%, 5% and 8% rates of appreciation projections utilized in the sensitivity analysis. Expenses associated with the sale, reimbursement of negative cash flow, anticipated improvements are deducted from the appreciated value, short term rental income offsets calculated, with the remaining net balance annualized. The presented Return on the Weighted Invested Capital is then computed, to demonstrate that resort property ownership can make financial sense with returns equal to or greater than other competing investments. An important "buyer beware" caveat is that the projections are a total capital appreciation play with no recognition as to the time value (IRR) of money.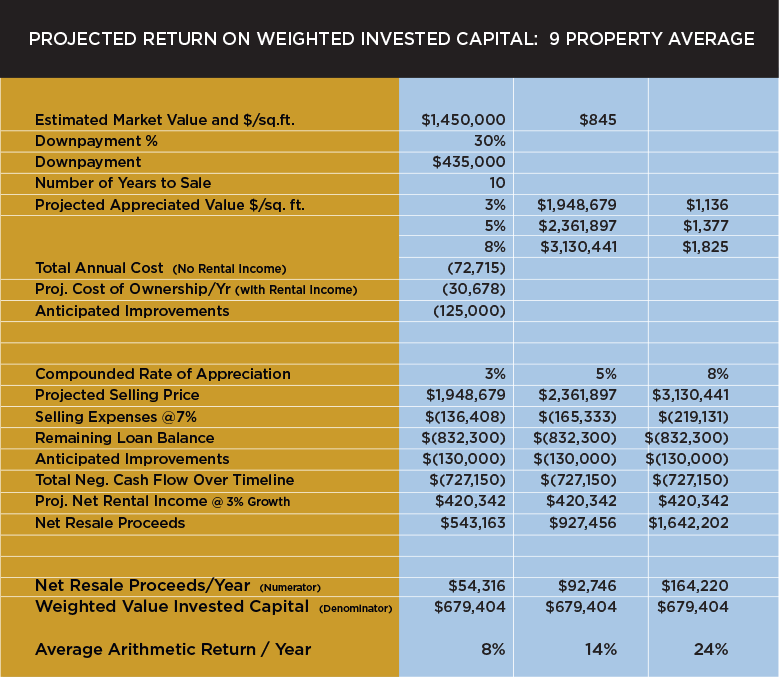 HOW WILL IT PERFORM AS AN INVESTMENT?
COMPOUNDED AVERAGE GROWTH RATE BY AREA
Ski proximate submarkets have performed remarkably well since 1991 when reliable data became available with a CAGR approximating 4.88%, during what history will record as the greatest down turn in modern economic history. The worst performing periods were 1998-1999 when money chased the tech market's unsustainable double digit bubble returns and the post 9.11 terrorism/war years of 2001-2003. 2004 marked the beginning of deteriorating lender underwriting standards producing the biggest real estate bull market run since the 1930's Depression. For resort real estate the good times came to an end starting 1st quarter 2008 where over the ensuing three years high water mark valuations dropped by about 20%, significantly contributing to what is now called The Great Recession.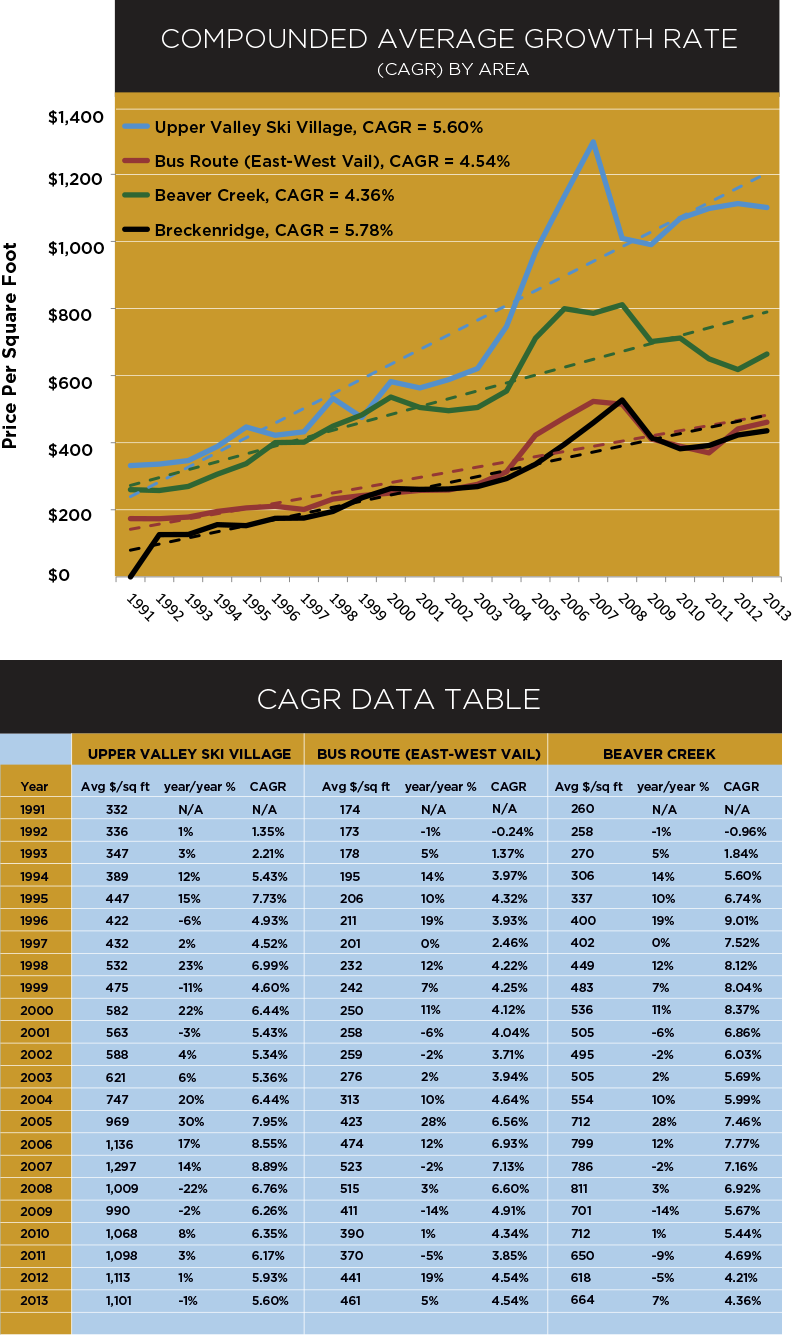 HOW WILL IT PERFORM AS AN INVESTMENT?
PROPERTIES SOLD BY NEIGHBORHOOD
2015 inventory levels remain surprisingly modest with no evidence of over-supply for properties priced less than $2.5 million, two bedrooms minimum. East to West Vail had 40 active listings but with sales numbering 49 this submarket is the most under supplied as measured by the inventory absorption ratio of .82 years to sell. Vail and Lionshead also had a combined total of 40 active listings but with 30 sales, this submarket is also under supplied with an inventory ratio of 1.33 years to sell. Beaver Creek rounds out the field with 54 active listings and sales of 43 for an inventory ratio of 1.26. Vail Property Brokerage defines a balanced market as one half of the for-sale inventory being sold in a calendar year; because who wants to buy a property on the bottom half of the list.